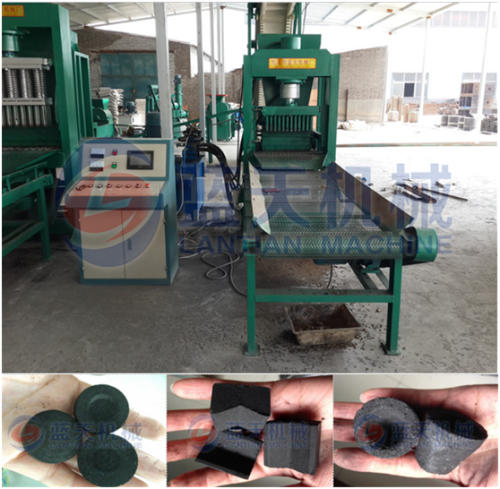 Product introduction of Arab shisha charcoal machine
It is a machine can press charcoal powder into small tablets, round shape, cubic shape, strip shape, ringlike shape, etc, also it can press with special words, company name, brand name, telephone number, etc. Good charcoal powder from coconut shell, bamboo, hard wood can pressed into high quality shisha/hookah charcoal, no harm to health.
(1) Hydraulic type
This machine is our patent product, which researched and developed by our engineers for 2 years.
Compared with mechanical type, some features as follows:
(1) it has larger pressure, also pressure can be adjusted, so it can press different
raw material: charcoal powder, coal powder, sawdust, salt, fertilizer, etc.
(2) it has manual and automatic operation two kinds, so more flexible and simple.
(3) pressure, speed, punching times, shisha/hookah charcoal heights all can be set and adjusted.
(4) the whole machine includes main machine, electric control cabinet(PLC), hydraulic cylinder and outlet conveyor belt.
(5) if for 25*25*25 mm cubic shape, it can press 48 pieces per time; if for 33mm round tablet, it can press 30 pieces per time; The punching times is 7-10 times one minute. So it can press about 20000 pieces one hour.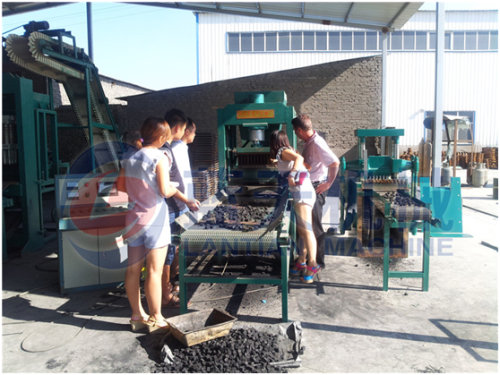 Mold
The mold material is chromium steel, the feature is high hardness, wear-resistant, corrosion-resistant and not rust, the service time is 3-4 years (8 hours working time per day). The mold use wire cutting process technology, so the mold size is very precise.
Mold shape and size can be customized according to customers special demands, for example square shape, round shape, strip shape, heart shape or others.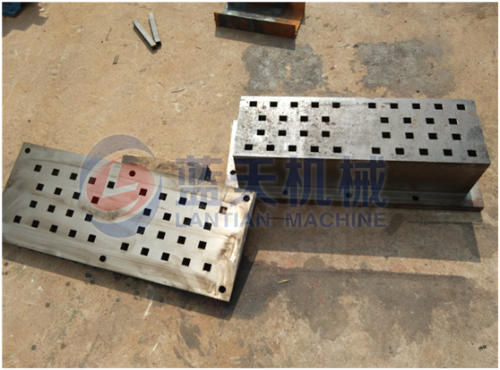 (2) Mechanical type
Mechanical shisha/hookah charcoal machine is a very matured machine of our factory, we manufactured it for many years. So I guess most of them know this machine before.
For 33 mm round shape, It can press 9 pieces per time; for 25*25 square shape, it can press 12 pieces per time, the punching times is 20-24 times one minute, so it can press about 15000 pieces one minute, besides, 20mm,22mm,30mm also popular size.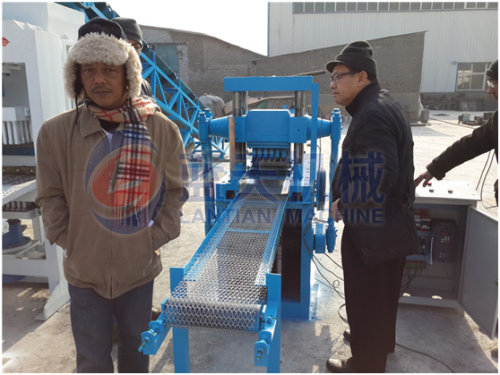 Mold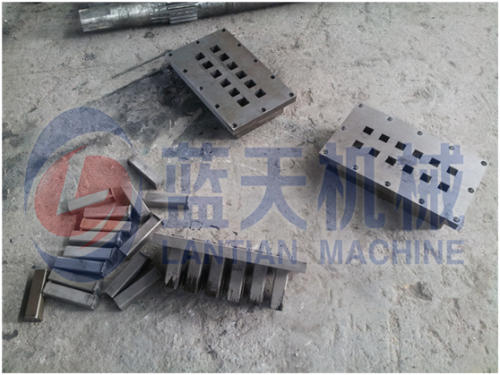 Final products of Arab shisha charcoal machine
Generally, round size is 20-45mm, square size is 15-55mm. The final shisha/hookah charcoal is smokeless, smelless, nontoxic, combustible, also has long burning time. Usually shisha/hookah charcoal ash content is 3%-5%, one piece can burn about one hour.
Besides, this machine also can press fertilizer, salt, sawdust and others. The mixture of sawdust and wax can be used as high quality fire lighter.
Not only we can make some popular shapes, for example cubic shape, round shape, strip shape, but also can we customize some special shape, for example heart shape, cup shape, etc.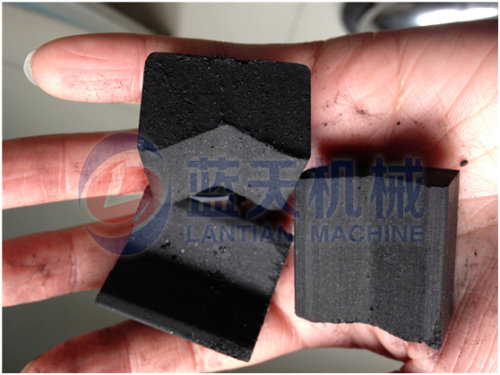 Cup shape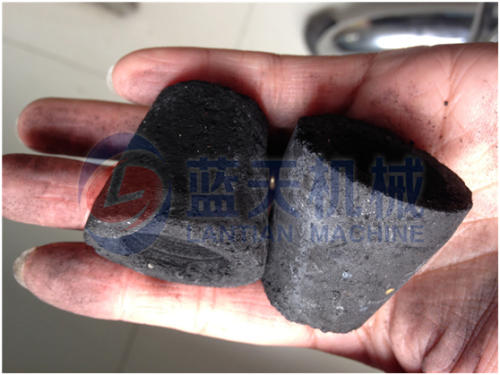 Cubic and round shape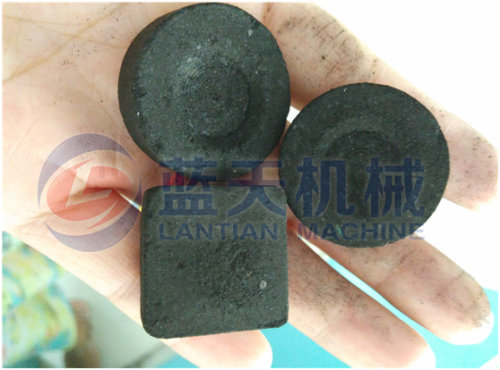 Heart shape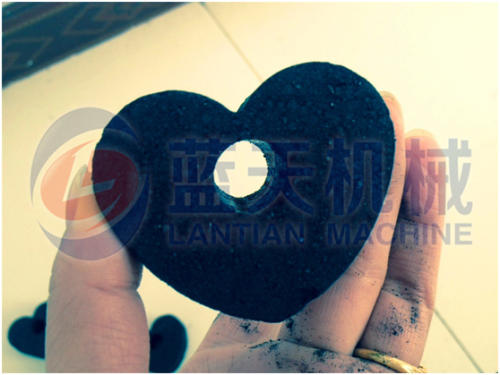 About packing and delivery of Arab shisha charcoal machine
About packaging, we can offer free fumigation wooden case with steel frame, which is very strong, not only can protect machine from damage, but also avoid checking when exporting.
For multiple machines, or production line, it's better to loaded in standard container 20GP, 40GP, usually it needs wrapped with plasitc firstly, then loaded in container.
About shipping, we can offer EXW, FOB and CIF terms.
EXW: We offer machines to you, and you arrange the shipping details by yourself.
FOB: We arrange freight transport to Qingdao, Shanghai or other ports of China, then you arrange the shipping details from China port to your country port.
CIF: We arrange all shipping details to your country port, and ensure machines smooth arrival.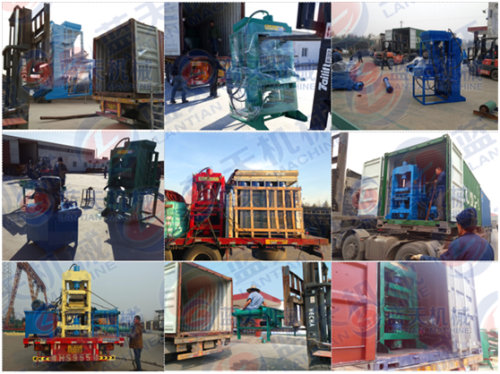 Customer visiting our factory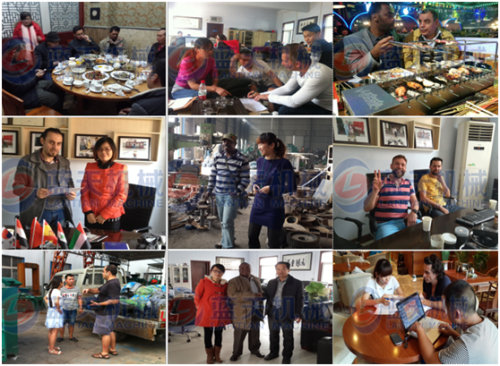 Gongyi Lantian Mechanical Plant in China have 30 years manufacturing history, our factory mainly produce Arab hookah charcoal machine, Arab shisha tablet press machine, ball press machine, BBQ charcoal machine, and its serial equipment crusher, mixer, feeder, dryer, etc.