Arab shisha charcoal machine can press charcoal powder into small tablets, round shape, cubic shape, strip shape, ringlike shape, etc, Arab shisha charcoal machine can also press with special words, company name, brand name, telephone number, etc. Good charcoal powder from coconut shell, bamboo, hard wood can pressed into high quality shisha, no harm to health.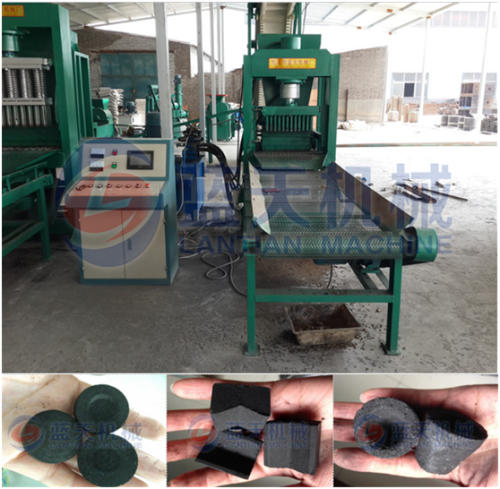 Arab shisha charcoal machine compared with mechanical type, some features as follows:
(1) It has larger pressure, also pressure can be adjusted, so it can press different raw material: charcoal powder, coal powder, sawdust, salt, fertilizer, etc.
(2) Arab shisha charcoal machine has manual and automatic operation two kinds, so more flexible and simple.
(3) Pressure, speed, punching times, shisha/hookah charcoal heights all can be set and adjusted.
(4) The whole Arab shisha charcoal machine includes main machine, electric control cabinet(PLC), hydraulic cylinder and outlet conveyor belt.
Gongyi Lantian machinery factory specializing in the production of Arab shisha charcoal machine , has more than 20 years of production experience, the production of high quality products, preferential prices, long service life, provide the perfect pre-sale and customer service service for you, to win the praise of customers at home and abroad, is worthy of your new manufacturer, welcome to purchase!