Gongyi Lantian machinery factory in response to the national call to production of new type coconut shell charcoal making machine,coconut shell charcoal making machine in the production process is smokeless and tasteless, provide a healthy working environment for workers, produce products of high quality, low price, our customers can request the production of various types of Machine to make charcoal bbq, to meet all the requirements customer, our plant equipment exported to the United States, India, Bangladesh and other countries, if you need the coconut shell charcoal making machine, Gongyi Lantian Machinery Factory is the best choice for you.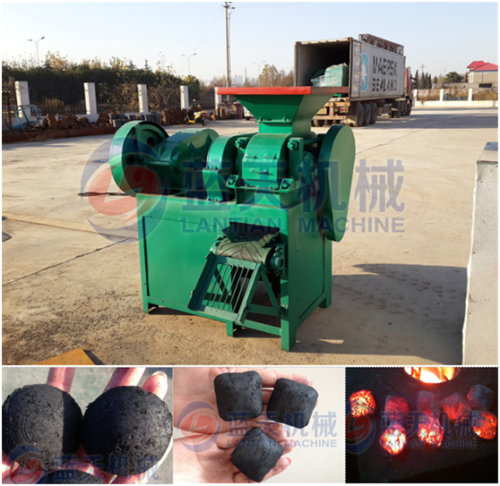 The product description of coconut shell charcoal making machine:
Coconut shell charcoal making machine also named coconut shell charcoal briquette machine, or coconut shell charcoal making machine, because finished products is similar to ball shape. With the increasing of people diversification demands, pillow shape, oval shape, egg shape, column shape, square shape, heart shape, bread shape can be customized.
At the beginning, this coconut shell charcoal making machine has two rollers, recently years, to improve roller pressure and increase briquettes hardness, we designed 4 rollers briquette machine, which adopts molding twice strategy. So the finished briquettes have high hardness, even down from 3 meters height, no shattered. Besides, for some not easy shaped materials, such as dry powder, iron powder, fertilizer, hydraulic type is a better choice,it means we add a hydraulic cylinder on the roller briquette machine.
Gongyi Lantian machinery factory specializing in the production of coconut shell charcoal making machine, has more than 20 years of production experience, the production of high quality products, preferential prices, long service life, provide the perfect pre-sale and customer service service for you, to win the praise of customers at home and abroad, is worthy of your new manufacturer, welcome to purchase!